It is that time of the year again, where fashion geeks get to dive headfirst into the 'haute couture' rabbit hole, and satisfy their thirst for the unapologetic beauty of couture. These runways are not for the timid. They are awash in art and wear-ability isn't even a factor in assessing the worthiness of each piece.
So we invite you to take out your best crystal flute, pour yourself a healthy amount of bubbles, and enjoy the first five collections that were revealed in Paris this season.
House of Dior Reigns in the Circus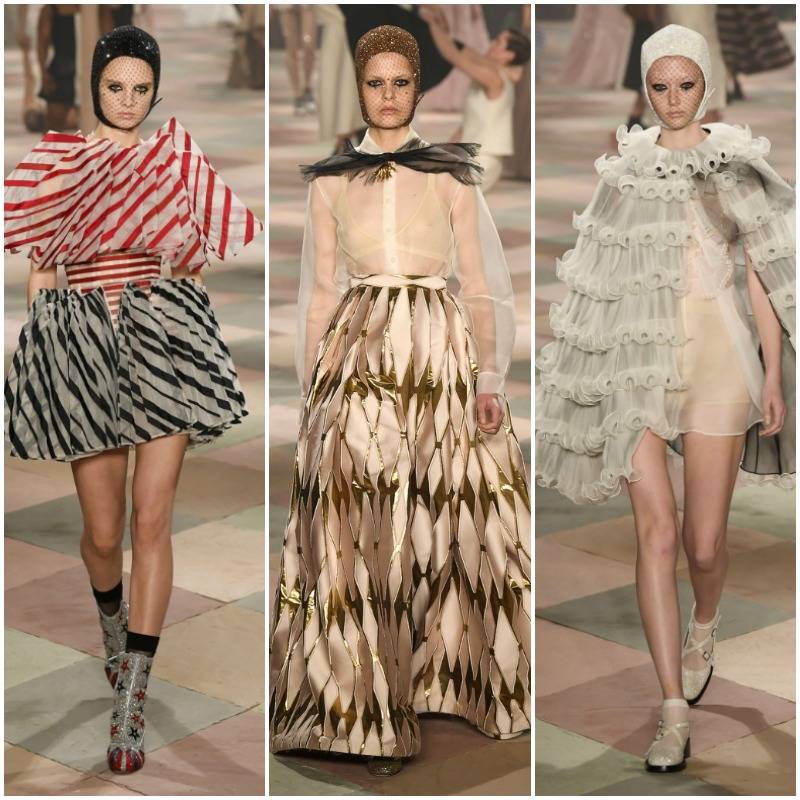 Circus elements once again graced the Christian Dior runway. In 2011, the House presented a very whimsical collection at London's Savoy Hotel that had a "Trip to the Moon" feel to it. Under different direction now, Dior is presently helmed by Maria Grazia Chiuri, and she is obviously undaunted by the inevitable comparisons that will arise. Chiuri presented a playful twist on the role of the 'clown,' with climbing gymnasts, and capped models. Stand-out elements were the incredible fabric manipulations and intricate crystal embellishments which added sparkle to every look.
Schiaparelli Couture Spring 2019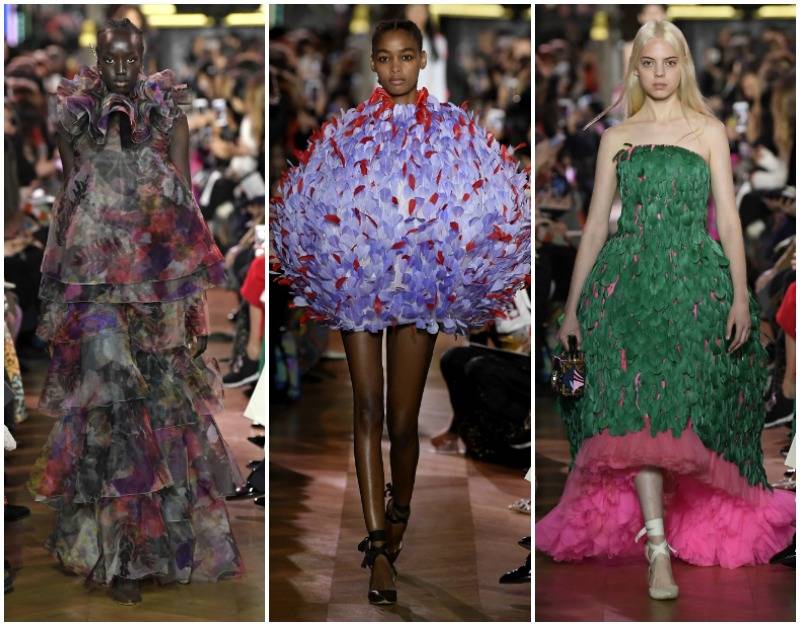 Schiaparelli is one of the original haute couture houses borne of the 1920s. Shuttered in 1954 by its founder, it was reborn in 2012 at the Hôtel de Fontpertuis, 21 place Vendôme, exactly where Elsa Schiaparelli had left it. Regaining its 'House of' status in 2017, this week's Schiaparelli runway was the first haute couture collection presented under the direction of Bertrand Guyon. Obsessive in its translation of Elsa's fascination with astrological signs and flowers, the pieces ranged from sleek to bold and body-obscuring. These three pieces are pure genius and honestly spelling binding to behold.
Iris Van Herpen Explores Human Hybrids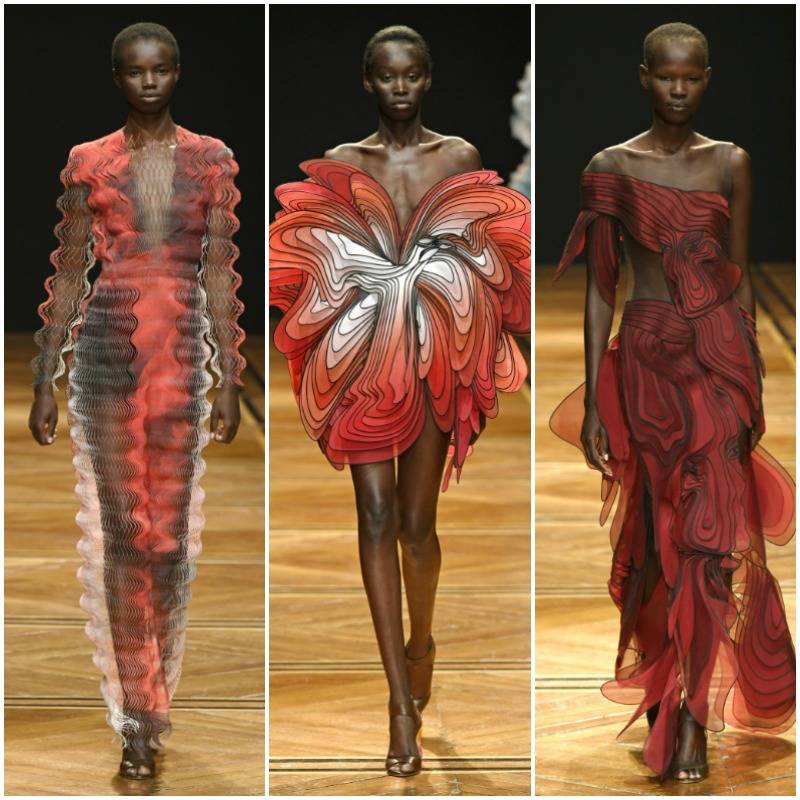 The collection was complicated and impossible to encompass in three images, so we chose to spotlight one colour scheme and the three-ways it was realized using Iris Van Herpen's signature 3-D printed materials. Otherworldly and optic illusionist, the entire collection is mesmerizing. The lead picture for this blog post features the Cosmica dresses in layers of translucent organza printed with coloured clouds by Kim Keever, a New York-based artist. Words to describe escape most and Van Herpen has teased a significant exhibition coming to Paris in 2020. Perhaps we will have an expanded fashion vocabulary by then!
Ralph and Russo Reconstruct the Riviera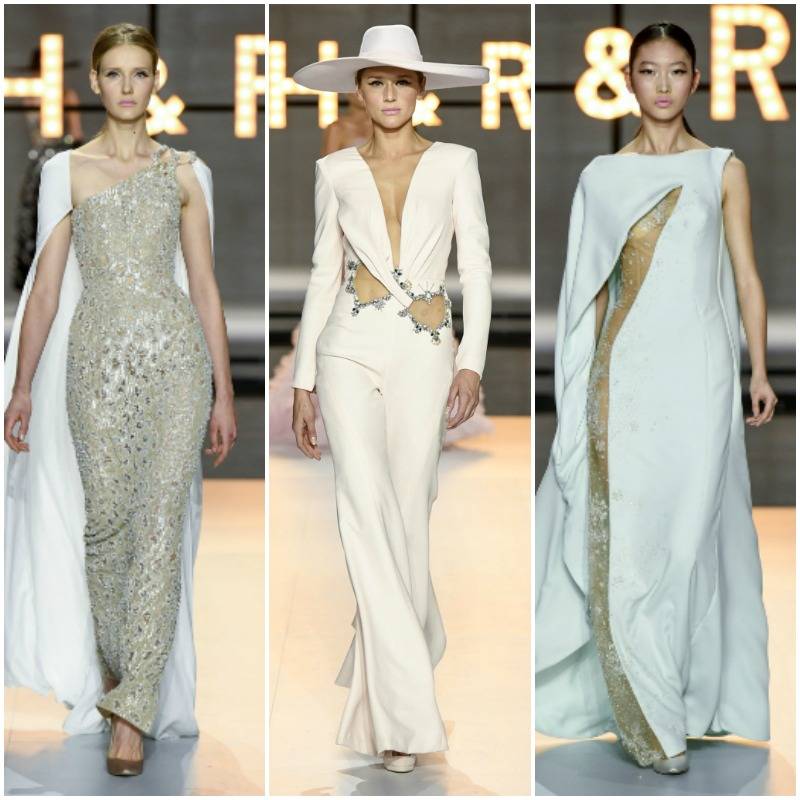 Designers Tamara Ralph and Michael Russo are still reeling from the Crazy Rich Asian's high that saw Constance Wu wearing one of their gowns at the Hollywood premiere of the year's most anticipated movie. The CRA gown was hand-embroidered for 490 hours with 200,000 crystals and another 275 hours to assemble. That is the definition of haute couture. The most exceptional craftsmanship in the world goes into a haute couture piece and each piece in this year's runway was beyond sophisticated and sexy. Channeling a French Riviera breeze, each silhouette initially appeared familiar until the detailing was revealed. These three pieces epitomized the perfection of this runway.    
Giambattista Valli Brings Taffy and Tulle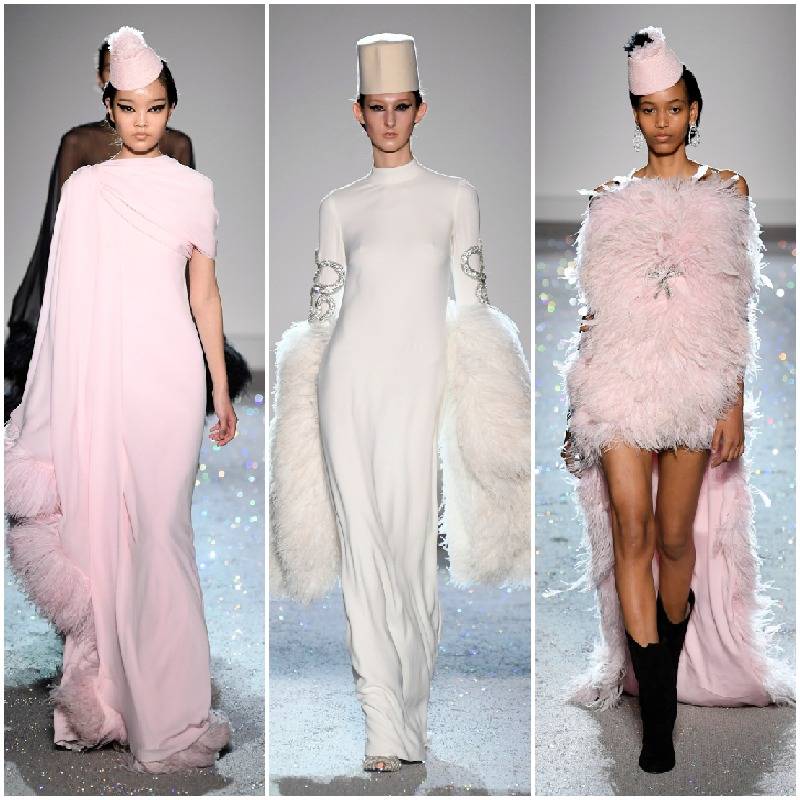 With his celebrity fanbase already treating the world to Giambattista Valli's tulle confections, let's spotlight the softer side of his 2019 haute couture collection. These three looks stood out, both in the choice of fabric and the use of feathers, the soft palette of pink and white taffy, and the ease at which the models moved in them. The collection was a discussion in opposites with Valli seemingly covering all the angles of client tastes – body-hugging to billowy pouf. Every look floated down the runway; a testament of the creator who redefines elegant excess over and over.
So while all the stars, high society, and those with more credit than a small country amass in Paris, we on the west coast will stay indoors, all cozy in chunky sweaters and statement leggings.
For more images from the Paris Haute Couture runways, visit VOGUE Magazine.
Author Profile
Helen Siwak is the founder of EcoLuxLuv Marketing & Communications Inc and publisher of Folio.YVR Luxury Lifestyle Magazine and digital women's lifestyle magazine EcoLuxLifestyle.co. She is a prolific content creator, consultant, and marketing and media strategist within the ecoluxury lifestyle niche. Post-pandemic, she has worked with many small to mid-sized plant-based/vegan brands to build their digital foundations and strategize content creation and business development. Helen is the west coast correspondent to Canada's top-read industry magazine Retail-Insider, holds a vast freelance portfolio, and consults with many of the world's luxury heritage brands. Always seeking new opportunities and challenges, you can email her at helen@ecoluxluv.com.