The Grammy's are music's biggest night and always one of imagination and creativity. Presenters and winners alike have always used this night of music magic to 'walk on the wild side' and veer away from the 'usual' to the wonderfully outrageous.
Let us tip our hats to those who walked into the 2019 Grammy's fully aware that they would be judged in the court of social media within minutes of walking the red carpet.
Cardi B. Love her, hate her, or just don't understand the phenomenon; Cardi B. takes risks. Over the course of the evening, she wore a series of 1995 Thierry Mugler vintage pieces from his archive. This dress is the 20th Anniversary Dress and was the first ensemble inspiring meme's using imagery from Ferrero Rocher (head-piece) to Botticelli's Birth of Venus.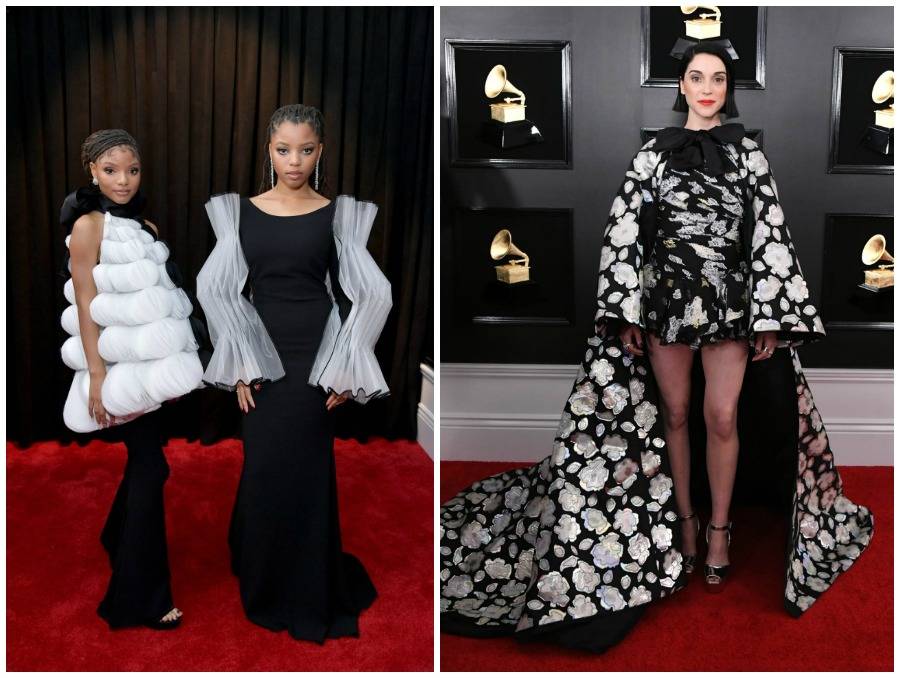 At the Grammy's, your go-to Little Black Dress just doesn't cut it if you are seeking attention. Sisters Chloe x Halle have made it into our Fashion Friday blogs before and are making a name for themselves, not only as actors (grown-ish) but as being fearless in representing the avant garde style of known and unknown designers. St. Vincent found the only non-tulle dress in the Giambattista Valli Couture closet. Seriously, how beautiful is this mini-dress and over-sized coat that appears to be inlaid with Mother-of-Pearl?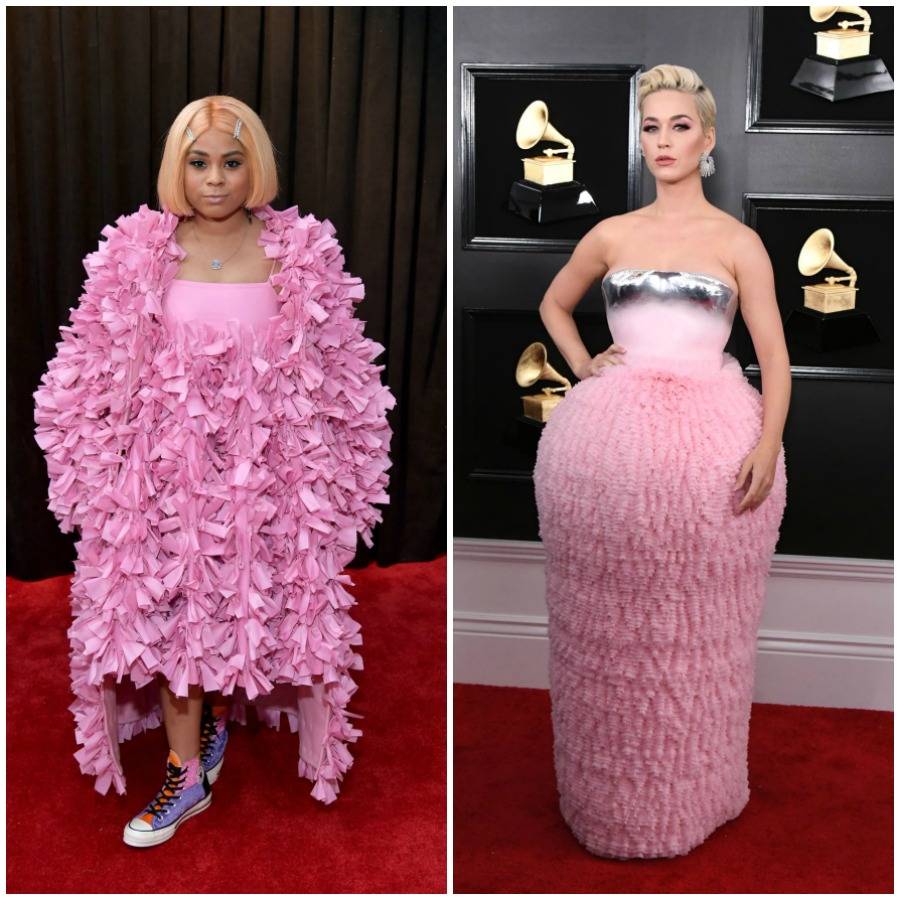 Actor turned chanteuse Tayla Parx and the indomitable Katy Perry both whipped up social media with their Pepto-pink pieces. Tayla's 3-piece look was paired with uber-comfy Converse and just screamed fun, fun, fun. Perry's choice for the evening, designed by Balmain, had tongues wagging within seconds and did anyone else notice that all the comparison were to things we love? Cupcakes, Barbie Doll cakes, whippy drinks, and more. Yum!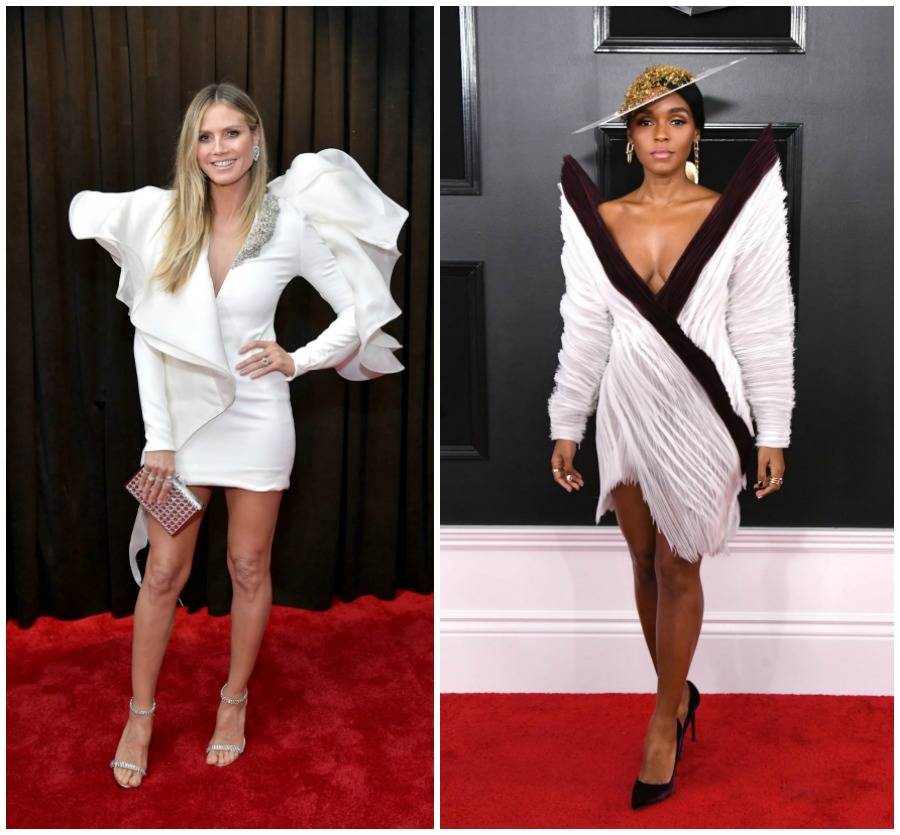 Supermodel and Project Runway creator Heidi Klum is always a personality to watch on the runway. This Stephane Rolland is said to be a nod to her time as a Victoria's Secret model – an updated pair of wings – for the red carpet win. Janelle Monáe channels Icarus in this gorgeous white structural Jean-Paul GaultierSpring 2019 dress trimmed in aubergine and not Monáe's signature black. Both looked simply angelic.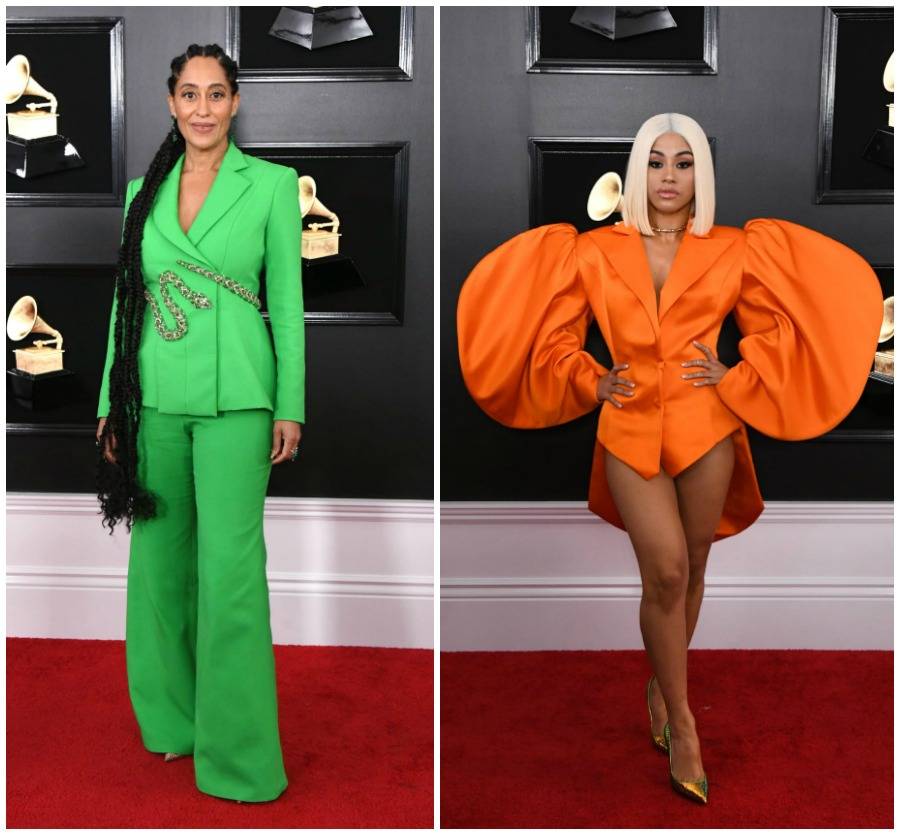 Tracee Ellis Ross stunned in this wide-leg Ralph & Russo pantsuit with snake belt. Styled by west coast stylist-to-the-stars Karla Welch, she looks gorgeous and, dare we say it, fresh as a pea! Cardi B's sister, Hennessy Carolina (fashion designer, Love and Hip Hop regular) in a carrot orange Kaimin tuxedo mini-dress blew-away the red carpet in this crunchy creation.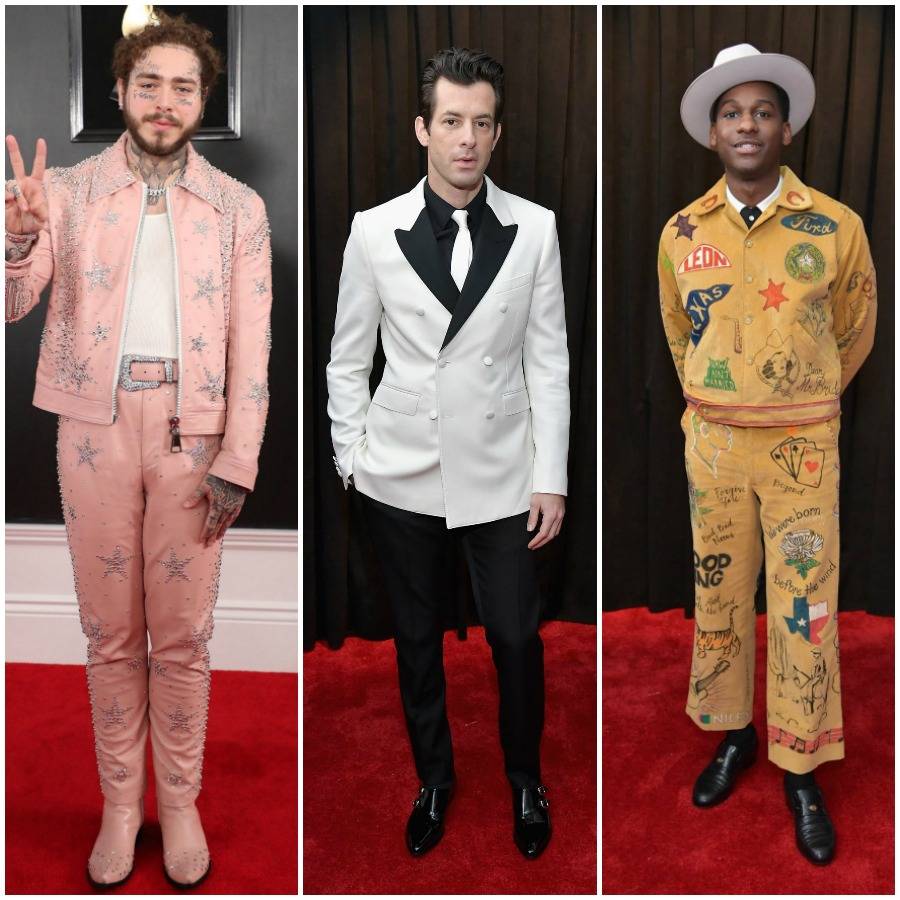 While the women of the Grammy's had social media lit up, it was the men who had us all stumped. If all the men in traditional classic tuxedos took a step to the left, these three would speak to an interesting dynamic in self-expression. Hip hop star Post Malone is very open regarding his penchant for Nudie-inspired 1970s country and western glam, Mark Ronson reversed the tux into this stunning white version, and Leon Bridges may just spark 'Dust Bowl Chic' as the next men's trend!
Author Profile
Helen Siwak is the founder of EcoLuxLuv Marketing & Communications Inc and publisher of Folio.YVR Luxury Lifestyle Magazine and digital women's lifestyle magazine EcoLuxLifestyle.co. She is a prolific content creator, consultant, and marketing and media strategist within the ecoluxury lifestyle niche. Post-pandemic, she has worked with many small to mid-sized plant-based/vegan brands to build their digital foundations and strategize content creation and business development. Helen is the west coast correspondent to Canada's top-read industry magazine Retail-Insider, holds a vast freelance portfolio, and consults with many of the world's luxury heritage brands. Always seeking new opportunities and challenges, you can email her at helen@ecoluxluv.com.