Whether you are taking your fashion cues from Italy's Pitti Uomo tradeshow, from friends, or even from billboards and bus ads around the city – what you do know is that no one look that dominates the season. Choices abound!
We, humans, are curious creatures when it comes to dressing ourselves, and once we find a style that suits us, we tend to stick with it. The question is though, when did you make that decision? Are you still dressing as you did in college? A few summers ago? Alternatively, are you stuck in a 'jeans and t-shirt' rut and desperately wish you could get out?
This week's Fashion Friday is dedicated to all of you looking for a comfortable, chic, and easy to maintain wardrobe for the Spring that is stylish, is on-trend, and will transition easily to Summer.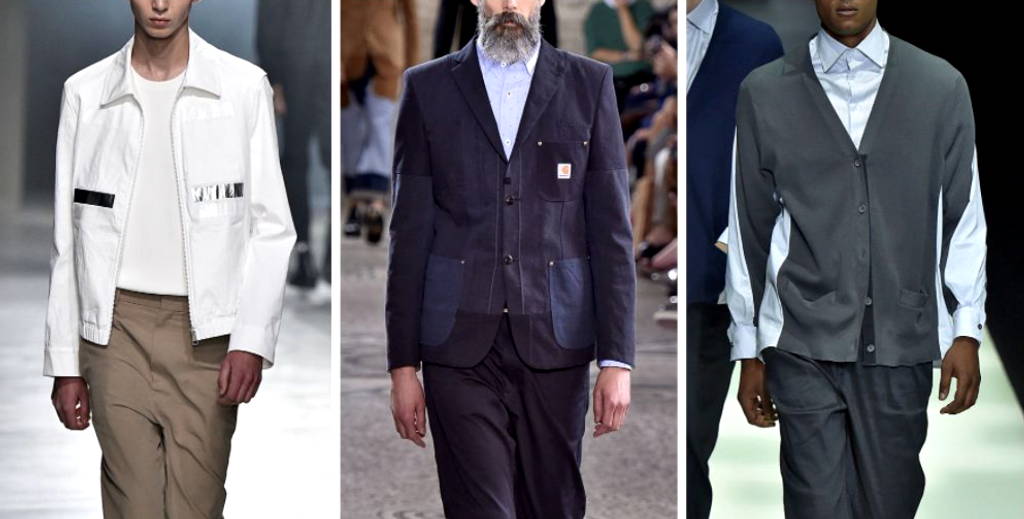 This season's favoured look is lightweight and tailored. Slightly retro with a pinch of geek for a smooth slightly tech look – these three looks sum up effortless.
A clean-cut wind-breaker in crisp cotton poplin or a nylon blend is easy to maintain and works well in a flexible lifestyle.

The adapted blazer in canvas or denim blend appears as a suit jacket but with a modern edge. Efficiently designed to work as a separate or in combination with dark denim for an office look with style.

The cardigan is making a strong comeback with an emphasis on tech. Extra points for contrasting trims, adjustable cuffs, and tailoring details.
Two Piece Suits – Together or as Separates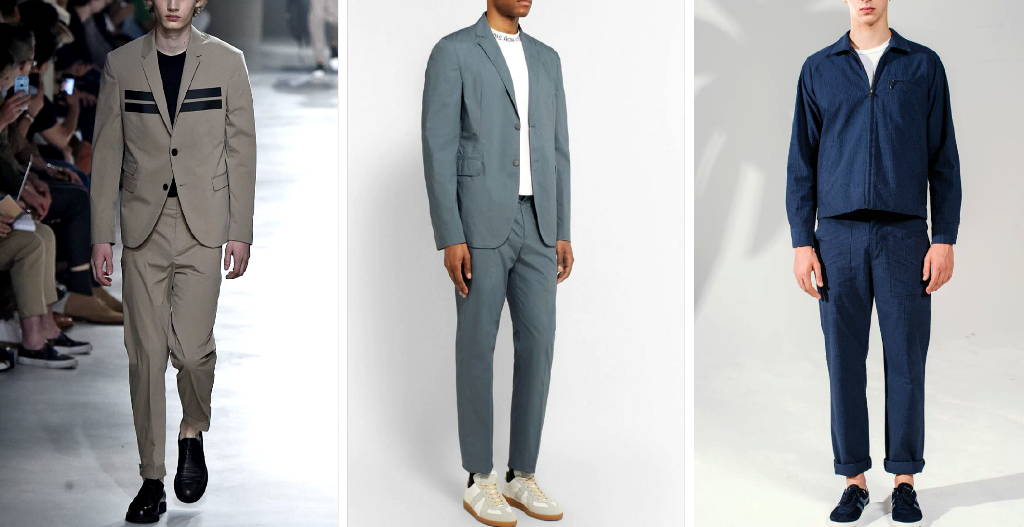 Suiting is taking a dramatic turn towards soft and clean, away from textured and patterns. Comfortable as work-wear, dressy casual, and as separates.
Keep colour palette cool and muted.

Pair with solid black or white structured t-shirts or mock turtle lightweight knits.

Add the latest in footwear to amp up the impact, such as a chunky runner, deck shoes, or a classic monk strap. To sock or not? That is up to you.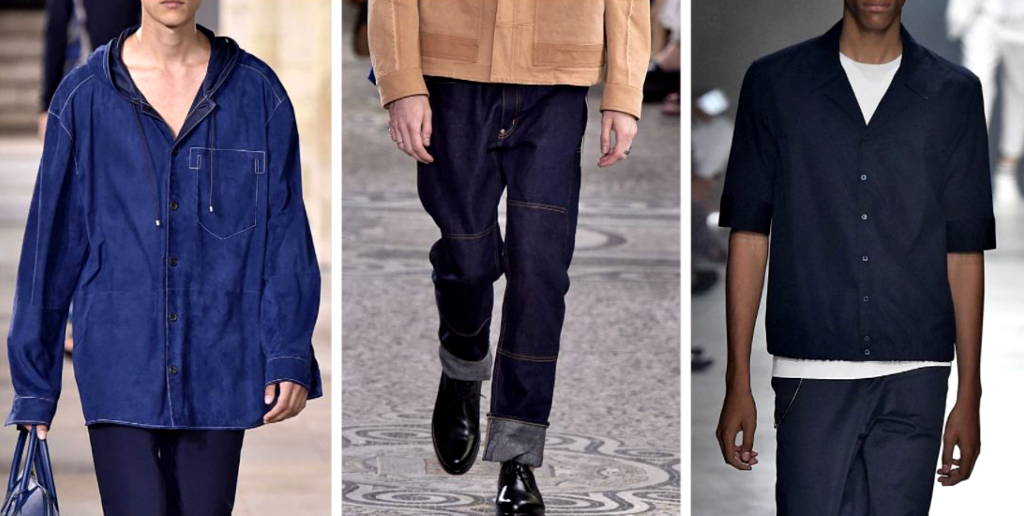 Denim is now your best go-to fabric for comfort and style. This versatile and robust fabric can be enjoyed in a variety of weights, which makes it suitable for our ever-changing west coast weather!
Oversized with soft details like sloped shoulders, drawstrings, and hidden zippers/buttons. Chose a lightweight, such as chambray, and wear over a graphic t-shirt or knit, or a heavier weight to wear on its own.
Dark denim that is waxed or treated to be stiff and weather resistant has become popular. It has a shiny surface that can resemble the look of leather or pleather. Pairs well with all styles of tops and can be paired with a casual blazer for the popular hipster look.

Layering denim works with natural fabrics and wardrobe staples. Venture outside the realm of blue and try black, burgundy, and shades of rich chocolate.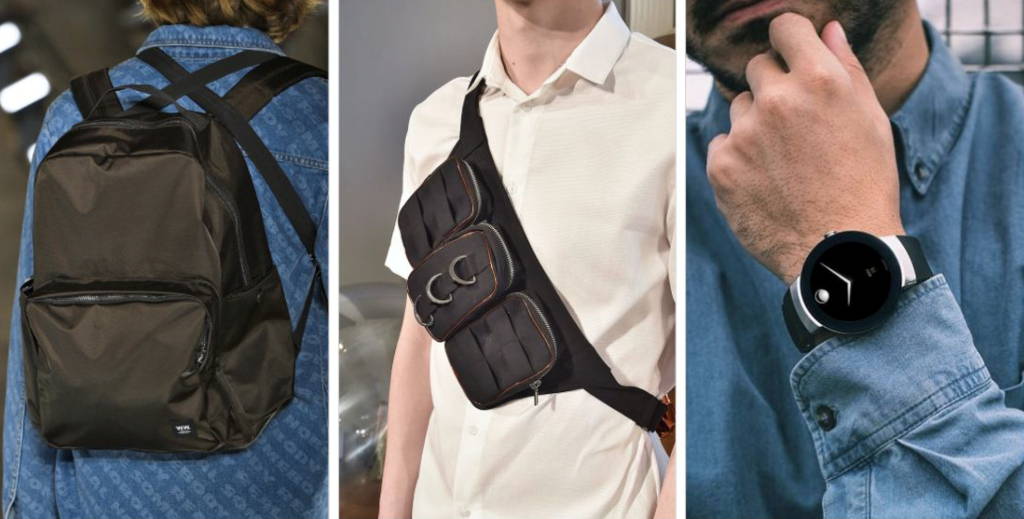 Accessories for men have evolved to include carrying cases of all sizes and shapes over the standard briefcase and duffel bag. Making strong statements are this season's mini-backpack, cross-body bag, and messenger bags.
Choose backpacks that are smaller in size without excessive pockets, zippers, and straps. Nylon and nylon-leather combinations in neutral colours, black, and khaki.

What was once a fanny pack is now a 'cross-body bag' and has been seen on all the luxury designer runways. Key pieces are flat with hardware elements and are worn on their own over a lightweight top or as part of an ensemble under a jacket or oversized blazer.

Statement watches are still in style with unique faces and oversized clean-lines being especially popular as they pair well with denim and cotton.
Footloose and Fancy-free Footwear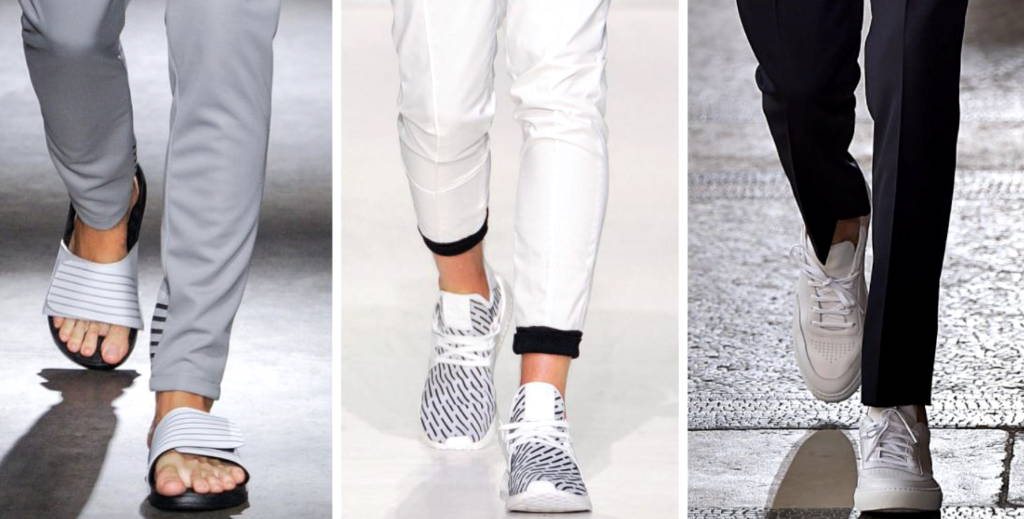 Rejoice as footwear gets soft and comfortable! Adjustable flip-flops, mesh soft-bottom runners, and sensible sneakers that have just enough detailing for the office but are low-key enough for every day.
Super popular in Asia, flip-flops are appearing in more and more west coast casual scenarios (as long as pedi grooming is on point!) and are wearable with athleisure, denim, and drawstring pants.

Soft-top breathable runners with flexible soles are super comfortable and added details such as strapping and patterns elevate a look from gym-wear to stylish.

Combination footwear that crosses work shoe with casual is versatile and sleek. Choose a pair with minimal detailing, sleek surface, and in a solid neutral. Great with shorts, skinny leg pants, or cuffed jeans.
A change in seasons is a wonderful opportunity to revive your wardrobe and for a little shopping therapy to shake off those winter blues. 
Author Profile
Helen Siwak is the founder of EcoLuxLuv Marketing & Communications Inc and publisher of Folio.YVR Luxury Lifestyle Magazine and digital women's lifestyle magazine EcoLuxLifestyle.co. She is a prolific content creator, consultant, and marketing and media strategist within the ecoluxury lifestyle niche. Post-pandemic, she has worked with many small to mid-sized plant-based/vegan brands to build their digital foundations and strategize content creation and business development. Helen is the west coast correspondent to Canada's top-read industry magazine Retail-Insider, holds a vast freelance portfolio, and consults with many of the world's luxury heritage brands. Always seeking new opportunities and challenges, you can email her at [email protected].